Your Education is Our Mission.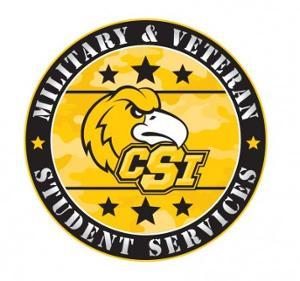 Welcome to the College of Southern Idaho! We are extremely grateful for the sacrifices current and past service members have made for our great country. Our mission is to help you make the transition from the military to college life. Let us help you navigate through the process and use any military educational benefits you're eligible for while attending CSI.

CSI Military and Veteran's Advocacy Coordinator provides responsive academic, administrative, and financial aspects for the Veterans, active duty military students, and their families who are taking the next step in their education.

If you have any questions please call 208-732-6244 or email Military@csi.edu. We are available for walk-ins, phone, and Zoom appointments.
VA Request for Certification Form
STOP! Please read the following carefully:
This form is required EVERY semester.
The submission of this form notifies the School Certifying Official that you, the student, is ready to have your enrollment information sent to the VA for processing. This means you have registered and have no plans of making changes to your schedule.
This form should also be submitted if you have changed your enrollment for the current semester.
Changes to your schedule can result in an overpayment and create a student debt with the VA
If you submit your VA Request for Certification form prior to registering, your request could be rejected and you will have to resubmit putting you further down the line for certifying.
We certify in date order
Brianna Creek
Student Financial Aid Advisor
Veteran SCO
Eagle Central
Phone: 208-732-6275
Email: bcreek@csi.edu
VA Request for Certification turn in to vabenefits@csi.edu.