The College of Southern Idaho's state-of-the-art facilities are situated on our beautiful 315-acre campus in Twin Falls. Located less than 10 miles from Magic Valley Regional Airport via a short drive on N 2900 East, getting here is easy. With over 30 unique structures and points of interest nestled within a natural, park-like environment, there is so much for you to explore at CSI.
Directions
Get directions to 315 Falls Ave, Twin Falls, ID 83301
You can also find directions and maps to the CSI Off-campus Centers
Walking directions on the Twin Falls campus
Current students can download the CSI mobile app to get walking directions directly to popular campus destinations and classroom spaces. 
Printable Twin Falls campus map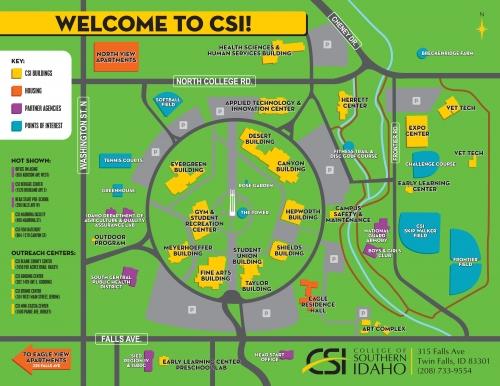 (Printable Map of the main campus in Twin Falls, ID)
Erected at the very center of the campus in 1967, you'll find the CSI Tower. The tower has served as a landmark of the campus and for the community, and at 107 feet is one of the tallest structures in Twin Falls.
Stroll over from the CSI Tower to our advanced Recreation Center and Gym, featuring comprehensive resources, equipment, and programs for various activities from basketball to weight training.
After a workout, visit the Student Union Building and grab a bite at the Eagle's Nest, a full-service deli with computer workstations and free Internet access, or relax in the Fireside Lounge. The Student Union Building also houses the Matrix, your one-stop-shop to take care of advising, financial aid, and registration.
 Want to see more?