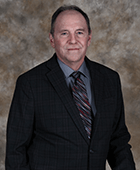 Scott McClure
Clerk
Term ends 2026
Zone #5
Scott McClure joined the Board in 2018. He is a Jerome native, having been raised and currently residing in Jerome County. He attended Idaho State University, where he served as Student Body President. He graduated in General Engineering, and upon graduation accepted a commission in the U.S. Marine Corps, where he served and reached the rank of captain. Also while at ISU he met his wife Claire. They have three children, Robert, Teri and Traci.
Following service in the Corps he worked as plant engineer for U and I Sugar, then returned to the Magic Valley to open McClure Engineering, a consulting engineering firm who provides services in structural, mechanical and industrial engineering, through an office in Twin Falls. In his engineering career he has served as president of the Idaho Society of Professional Engineers and as Chairman of the Consulting Engineers of Idaho. He served on the Idaho Board of Professional Engineers and Land Surveyors for 10 years. Awards he has received include the Outstanding Engineer of the Year award from the Idaho Society of Professional Engineers and the Idaho Business Leader of the Year from AKPsi Business Fraternity at Idaho State University. He is licensed as a professional engineer in both structural and mechanical engineering. He is licensed as a professional engineer in twelve states.
Scott says: "I am excited to serve on the CSI Board because the College serves such a valuable function in the Magic Valley. It serves as the bridge between high school and a technical and/or academic career. We need to make sure that bridge is as strong, secure and affordable as possible while striving for excellence in all fields."

Anna Scholes
Vice Chairman
Term ends 2026
Zone #1
Elected to the Board in 2018, Anna was born to immigrant parents in Johnstown, PA, attended the University of Pittsburgh School of Pharmacy, then worked in sales and marketing for 10 years for Eli Lilly & Company. She married Twin Falls native Chris Scholes and moved to Idaho in 1997. She has been an active member of the Magic Valley community and is currently involved in Twin Falls Optimist Club (President), Twin Falls Optimist Youth House, Boys and Girls Club of Magic Valley, Twin Falls School District Education Foundation Board, and St Luke's Quality, Safety and Service Excellence Committee. She has served in various roles for local PTAs and Booster Clubs, and has been involved in many local fundraising campaigns. She was co-chairperson of the Citizens for the Twin Falls School District Bond Levy (2014). She has been an adjunct pharmacology instructor at CSI for several years and continues to work part-time as a community pharmacist. Anna and Chris have 2 college-aged children.

Mr. Laird Stone
Chairman
Term ends 2024
Zone #2
Elected to the board in 2012, Laird was born and raised in Gooding. He received a bachelor's degree in Marketing and a Juris Doctorate in Law from the University of Idaho. He was a member of the Idaho State Board of Education from 2001-2008. His community involvement includes El Korah Shrine Ambassador, All Star and Babe Ruth Baseball, Shrine High School All Star Football, recipient of a Twin Falls Chamber of Commerce Lifetime Achievement Award, Snake River Council Boy Scouts, Mason's and Kiwanis. Laird is a partner in the law firm Stephan, Kvanvig, Stone, and Trainor. He is a strong supporter of the community college and the dual credit system with the high schools.