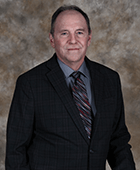 Scott McClure
Clerk
Term ends 2026
Zone #5
Scott McClure joined the Board in 2018. He is a Jerome native, having been raised and currently residing in Jerome County. He attended Idaho State University, where he served as Student Body President. He graduated in General Engineering, and upon graduation accepted a commission in the U.S. Marine Corps, where he served and reached the rank of captain. Also while at ISU he met his wife Claire. They have three children, Robert, Teri and Traci.
Following service in the Corps he worked as plant engineer for U and I Sugar, then returned to the Magic Valley to open McClure Engineering, a consulting engineering firm who provides services in structural, mechanical and industrial engineering, through an office in Twin Falls. In his engineering career he has served as president of the Idaho Society of Professional Engineers and as Chairman of the Consulting Engineers of Idaho. He served on the Idaho Board of Professional Engineers and Land Surveyors for 10 years. Awards he has received include the Outstanding Engineer of the Year award from the Idaho Society of Professional Engineers and the Idaho Business Leader of the Year from AKPsi Business Fraternity at Idaho State University. He is licensed as a professional engineer in both structural and mechanical engineering. He is licensed as a professional engineer in twelve states.
Scott says: "I am excited to serve on the CSI Board because the College serves such a valuable function in the Magic Valley. It serves as the bridge between high school and a technical and/or academic career. We need to make sure that bridge is as strong, secure and affordable as possible while striving for excellence in all fields."