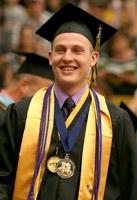 The CSI Transfer Guide is designed to assist students in navigating the transfer process from CSI to another college or university. This site has course equivalency guides from regionally accredited colleges and universities, guidelines on how to transfer, links and contact information for area colleges and universities, and other relevant information.
Transferring from CSI requires ongoing planning. Advising Services is here to help you!
Check out the Transfer Checklist to help in the transition with planning and getting organized.
Disclaimer
The College of Southern Idaho (CSI) Transfer Guide webpage is designed as a resource for students to explore, gather, and review transfer information provided by regionally accredited colleges and universities. The Transfer Guide does not act as official determination nor a guarantee of successful course equivalency or acceptance into program of studies with the listed transfer colleges and universities. Careful consideration and selection of transfer school program offerings should be exercised with caution by each student based on his/her unique educational and personal circumstances. The information posted on the Transfer Guide webpage includes hypertext links and other pertinent information created and maintained by transfer colleges and universities. CSI does not control or guarantee the accuracy, relevance, timeliness, or completeness of information provided by each listed college and university. CSI does not endorse products or services that such transfer colleges and universities may offer. CSI cannot be held liable for damages of any kind as a result of related use, misuse, of any information directly addressed or referenced by transfer colleges and universities.