Release Date: Tuesday 2020-01-07
TWIN FALLS – The College of Southern Idaho Diesel Technology: Truck Program is grateful to Kenworth
Sales Company, for donating a new training engine with a value of about $30,000. The new engine will allow
students to work with the latest and greatest technology while preparing to become Truck Technicians.
Since the inception of the CSI Diesel Technology: Truck Program in 2016, Kenworth Sales Company, has been
a key industry training partner.
"Due to our partnership with Kenworth Sales Company, for the first time ever, CSI is able to offer training that
is specific to Paccar. This benefits students at the college by appealing to a larger hiring base. It also allows the
college to train technicians more specifically for employers. Kenworth Sales Company has been phenomenal to
our students and we really appreciate it," said Dust Holt, CSI Diesel Instructor.
The College of Southern Idaho would like to show sincere appreciation for this generous donation of modern
equipment, which will help student growth in Diesel Technology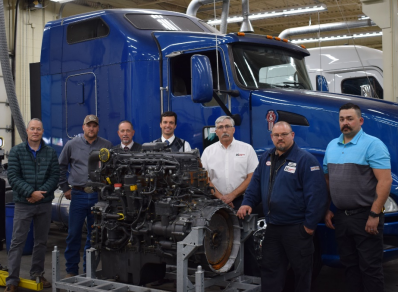 Left to Right: Kory Lloyd (CSI Department Chair), Dustin Holt (CSI Diesel Instructor), Bill Pahl (Kenworth Sales Company District Manager),
Barry Pate (CSI Instructional Dean), Les Anderson (Kenworth Sales Company Service Manager), Eddie Blunt (Kenworth Sales Company Shop
Foreman), and Cody Campbell (CSI Lab Aid)
Media Contact:
Dustin Holt, CSI Diesel Technology Instructor
dholt@csi.edu | 208-732-6371