Accreditation Information
Idaho Consortium for Physical Therapist Assistant Education: College of Southern Idaho | College of Western Idaho | Lewis-Clark State College | North Idaho College
The Idaho Consortium for Physical Therapist Assistant Education prepares students for employment as physical therapist assistants (PTA). The PTA functions through the direction of a physical therapist (PT) to implement the PT's plan of care. The ultimate goal of physical therapy is to aid patients and clients in their return to maximal function. PTA students are instructed in thinking processes and skills such as therapeutic exercise, orthopedic and neurological interventions, therapeutic modalities, and the art of patient care. In addition to patient treatment courses, students study the basic sciences of anatomy, physiology, clinical pathology, and kinesiology. Clinical education experiences are integrated throughout the curriculum and offer students the opportunity to practice the techniques learned and practiced each semester. The program is designed to be completed in two years.
Statement of Accreditation
The Idaho Consortium for Physical Therapist Assistant Education at the College of Southern Idaho, the College of Western Idaho, Lewis-Clark State College, and North Idaho College is accredited by the Commission on Accreditation in Physical Therapy Education (CAPTE)

Address
3030 Potomac Ave Suite 100
Alexandria, Virginia 22305-3085
Telephone
(703) 706-3245

Website
http://www.capteonline.org.
If needing to contact the program/institution directly, please call (208) 665-5051 or email jon.gardunia@nic.edu.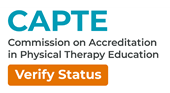 Complaints Against PTA Program, Faculty, Students or Program Graduates
An individual may make an inquiry regarding complaint procedures or about issues and concerns that could be considered complaints. The Physical Therapist Assistant (PTA) Consortium Program's response and its obligations to meet the specific timetables outlined in these procedures will begin only after a formal written complaint is received by the program director or dean.